Each month the High Point Police Department shares the most recent data related to violent crimes, gang activity, gun seizures and other interactions with our community at the HPCAV monthly meeting. The information below is from the June 8, 2022 meeting.
Impact (Violent) Crimes
Impact or Violent crimes include crimes against persons (homicide, manslaughter, rape, robbery, aggravated assault) and crimes against property (burglary, auto theft, all larceny).
We have had eight homicides year to date (as of June 8). In spite of this, we cannot give up. We continue to have decreased crime in other areas. The officers of our police department work hard to make this happen. They do a lot of preventive work, which most of us never see. When the community joins in, solving crimes and preventing crimes is even more successful.
Click here to access crime statistics or crime in your neighborhood.
Crime Trends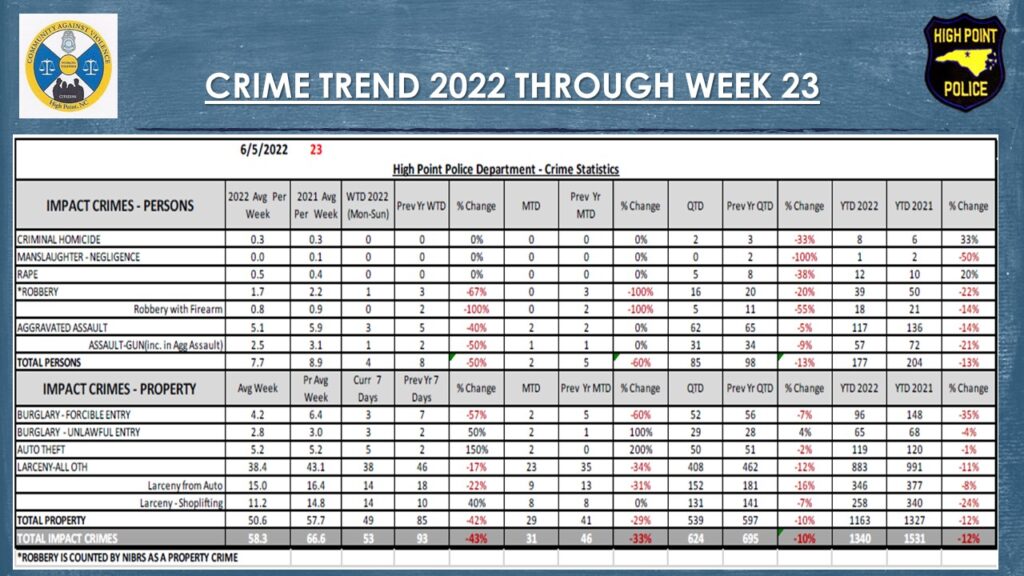 Guns Seized
Monthly Infographic
The infographic is another way to depict the statistics each month.