Each month the High Point Police Department shares the most recent data related to violent crimes, gang activity, gun seizures and other interactions with our community at the HPCAV monthly meeting. The information below is from the January 12, 2022 meeting.
Impact (Violent) Crimes
Impact or Violent crimes include crimes against persons (homicide, manslaughter, rape, robbery, aggravated assault) and crimes against property (burglary, auto theft, all larceny). This overview covers the entire year of 2021.
Yes, we had a lot of homicides in High Point last year. But we also had a decrease in other areas we watch and target. A decrease in crime doesn't happen by itself. Our police department has worked very hard to make this happen. Community support is a big part of that. Thank you to our Department and our community!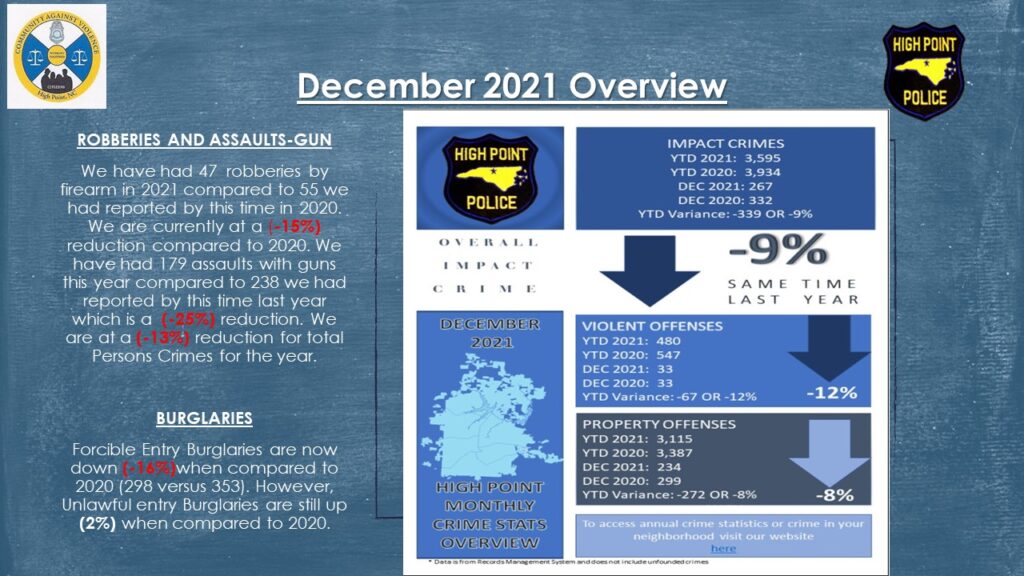 Click here to access crime statistics or crime in your neighborhood.
Crime Trends
Guns Seized
Annual Crime Clock
The clock is designed to convey the annual reported crime to HPPD by showing the relative frequency of occurrences. The mode of display should not be taken to imply a regularity in the commission of crime; rather, it represents the annual ratio of crime to fixed time intervals and rounded up.