Jim Summey retired on December 31, 2022 after 13 years as High Point Community Against Violence, Inc.'s Executive Director.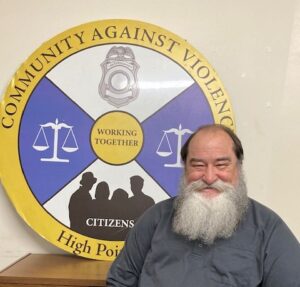 Since the early 2000's, Jim worked tirelessly to reduce violence and improve life for the residents of High Point.  He was a co-founder of West End Ministries, Inc. and Leslie's House, both of which continue providing needed services to individuals and families. As a volunteer, he was willing to work side by side with the High Point Police Department and our very young organization to implement something new called focused deterrence. This strategy was used in the West End neighborhood to address the problem of open air drug sales. The effort was so successful it was repeated in other neighborhoods in town and then applied to other crime problems, such as robbery.
Jim was instrumental in that success and we hired him as our first Executive Director. In that role, Jim trained countless communities around our nation in what has been called the High Point Model of focused deterrence. He worked with federal, state and local law enforcement. He testified before Congress. He worked with researchers and reporters and students. Since 1998, the focused deterrence strategy has helped reduce High Point's overall violent crime by 67%. Jim had a major role in the successful execution of this strategy in our city.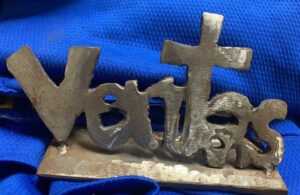 Locally, Jim led our organization through lots of new territory as we have grown in size and scope. Through stumbles and successes, the basis for all his work and ours has been the sign he kept on his desk that reads "Veritas". He continues to pastor English Road Baptist Church, where you can hear him preach on any given Sunday morning.
In December, Jim was recognized with a Hometown Heroes Award from the NC Automobile Dealers Association, nominated by Tim Ilderton. It's a fitting tribute for who he is and all that he has done.
While we'll miss him at HPCAV, we're excited about his plans to continue working for the good of all people in our city and county. He's left HPCAV in good shape and in good hands. We're grateful and look forward to building on that foundation of truth as we move into 2023.
Best wishes for many years of happiness and success in all you do, Jim!