Rhonda has joined HPCAV as our first Assistant Executive Director. She is responsible for helping us build capacity around employment. Rhonda has years of experience as a Work First Employment and Community Engagement Specialist in Davidson County. In that role, she also coordinated Davidson County's Business Advisory Council. She volunteered with Project Safe Neighborhood and the Domestic Violence Intervention Program so she is well acquainted with the mission of HPCAV.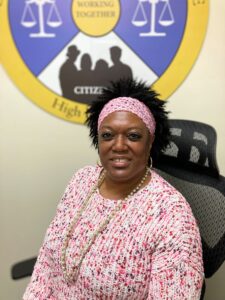 Rhonda will also be heavily involved in our work with other youth service providers as we move our focus into prevention and intervention in violence by youth ages 24 and under. The hope is to improve High Point's capacity to engage and encourage all of our young people toward a life of purpose and non-violence.
Rhonda is married to Byron and they have an adult daughter, Kayla. They live in Lexington.
We're excited to take another step forward in making High Point a safer place for everyone.