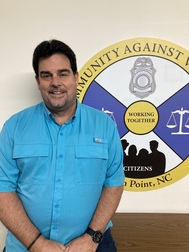 We're excited about the new year and our new Executive Director: Robert Martin. Robert is probably best known to his friends as a rabid Appalachian State fan (he's a graduate). To HPCAV, he's known as one of our founding members.
Robert was employed as a Community Corrections Officer (adult probation and parole) with the NC Department of Public Safety from 1989 to 2017. He began working in Guilford County. When High Point Regional Hospital (now Atrium Health Wake Forest) completed a needs assessment in the mid-1990's, Robert joined the task force looking at and working to address violence. Officially representing the county's Community Corrections office, Robert was a part of the creation of High Point Community Against Violence, Inc. and an active part of the implementation of focused deterrence here.
Robert spent the last nine years of his career in Davidson County and retired from NCDPS in 2017. He was hired as the Project Safe Neighborhoods Coordinator for Davidson County, doing essentially the same work for our neighboring county as he had done as a volunteer with HPCAV. He remained a member of the HPCAV Executive Board and continued to work with us.
When Jim Summey submitted his resignation, Robert was the natural and best choice to be our next Executive Director. He resigned from our Board in November, 2022 and officially began his new position on January 1, 2023. Robert has already laid the groundwork to build on what has been a great partnership
with our police department and our community. He is looking forward to moving us towards
more work with youth, our new focus area. He is a supporter of EKG2, a promising educational program on guns and gang violence for seventh graders, and hopes to see it implemented here.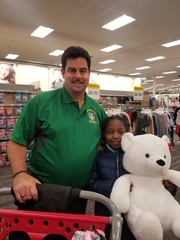 Robert is as dedicated to his high school, High Point Andrews, as he is to App State. He has been an active HPAHS volunteer and supporter. He is a long time Lions Club member and an active part of the local Fraternal Order of Police. He participates in the High Point Senior Games and you can see him at HPU basketball games. He is truly dedicated to High Point and making it safer for everyone.
Join us in welcoming Robert to his new role with HPCAV!