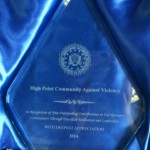 On May 1, 2015, HPCAV was presented the 2014 FBI Director's Community Leadership Award at FBI Headquarters, Washington, DC by Director James B. Comey.  HPCAV was selected as the organization in North Carolina to receive this recognition.  Board President Gretta Bush, Board members Robert Martin and Chris Martin, Executive Director Jim Summey, and High Point Police Chief Marty Sumner were there to receive the award.
"This year's honorees have distinguished themselves in remarkable ways through their hard work, their leadership, and their strength of character," said Director Comey. "They are ordinary citizens, but what they have accomplished is nothing short of extraordinary."
"We are so honored to receive this award," said Gretta Bush, HPCAV Board President. "After all these years of working together, it is so nice to see our efforts recognized."
This special award was created in 1990 as a way to honor individuals and organizations for their efforts in combating crime and violence in America.  Nominations are submitted by area FBI Field Offices.
High Point Community Against Violence was formed in 1997.